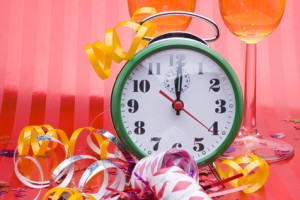 In case you'd rather listen, click here:
Forget Resolutions: Countdown to Twenty-Twelve
The holidays have peaked.  You're sitting back, basking in the warmth of family joy.  There are leftovers in the fridge, and bags of torn wrappings for the garbage pickup.  ("Hmmm, there must be a more environmental way … but the kids do love to tear off that paper …")
All the planning, all the adrenaline build-up, all the checklists made for a perfect couple of days.  Except that little glitch, of course, you know the one.  (There's always one.  What was it this year?)
Your emotions ricochet between satisfaction and exhaustion and relief.  It's over.  We made it past this first phase of the holidays.  Done.
Now starts the countdown to Twenty-Twelve.
This last third of December comes under some sort of "fantasy umbrella."  Rules are broken.  We allow ourselves little no-no's, and then say we'll make up for them in the New Year.  And, after the tough year some of us have had, maybe we really deserve the respite.
But I challenge you to fit one new piece into the countdown to New Year's.
Sure, you're thinking of how you're going to usher in the New Year.  Where you'll go, what you'll do, what you'll wear, and if those holiday pounds will show.  Or, how to make that sensible stay-at-home celebration meaningful.  No, not meaningful.  Glorious!
Somewhere in the back of your mind, you're also thinking "resolutions."  Everyone is.  And everyone knows very few resolutions ever make it past January 5th.
So this year I propose a new little challenge.
In the next few days leading to the New Year, write down the five things you wish had been different in 2011.  Maybe you already know what they are and can write them down right now.  Maybe you need to let the task simmer in your brain for a few days, and let them come to the fore one by one.
By sometime around December 30th, be sure you have your list of five things.  Sit down over a cup of tea or coffee, somewhere quiet, and think of the opposite of each of those five things.
•    "I wish I didn't have to work so hard and had more time for my family" becomes "I put in reasonable work hours and have more time for my family."
•    "I wish it weren't so hard to close out each month because my income is too small" becomes "It's easy to close out each month because my income is large."
•    "I wish I weren't so tired all the time from carrying this extra weight" becomes "I'm full of energy because my weight is in a healthy range."
Write them on a clean piece of paper.
At the top of the page, write "What 2012 Will Bring Me."  Make it fancy.  Make it simple.  Do whatever you want, but "make it."
Post your intentions for the year somewhere where you see them all the time:  over your computer, on the fridge door, in your top desk drawer.
Goals are supposed to be real specific:  losing 25 pounds, earning $35,000 more, for example.  But that's how resolutions get broken, and then abandoned.
Instead of defining exactly how and what you'll do, you've plotted out your direction for the year.  Your subconscious now knows what you want.  And each time you have a decision to make, looking at your list will help you decide which way to go.
I bet by the end of 2012 you'll find you've made some major strides on some of the things you said you want.
Give it a try.  It's infinitely better than making … and breaking … resolutions.  As we all do.
And, if you'd like to post one or two of your intentions in the comment section below (after all, some are too private to post!), please do so.  It might be just the incentive someone else needs!
Here's to making Twenty-Twelve a truly stellar year!