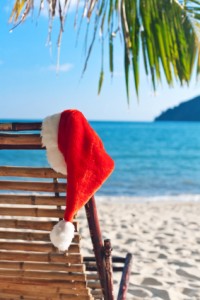 Rather listen than read? Click here:
2013-2014 UPDATE!  As the holidays come to a close, will you remember them as reflecting your life, wishes and circumstances today?  Or did you get caught up in a wave of other people's traditions, expectations and automatic plans?  Was it easier to default to "but we've always done it this way," even if it doesn't fit with your lifestyle today?

Santa Claus wore bathing trunks and Christmas trees were pretty sad looking when I was growing up in Brazil.  The trees were grown by German immigrants who lived up in the mountains around Rio.  At that elevation, the climate was almost cool enough to allow the poor trees to grow … but never enough to thrive.
Brazil is south of the Equator, so December marked the beginning of summer.  And for us kids, Christmas signaled the start of our long summer vacation from school, although it was the middle of the school year.
Over time, Christmas in Brazil got as commercial as anywhere else in the world.  And, during the month of December, more and more totally irrelevant snowflakes made their way into street decorations.  Thermometers reported temperatures in the 90s and no one had ever seen snow, but "that's how they do it in America."
I do remember getting Christmas cards from relatives in the U.S., with scenes that looked like something straight out of a Norman Rockwell painting.  They sure didn't look like anything we could ever dream up.
On Christmas Eve, Brazilian Catholics all went to midnight mass, then came home to their family Christmas feasts.  Three or four generations shared the meal, from infants to octogenarians.  They then opened their gifts, leaving nothing for Christmas Day other than to sleep in and to recuperate.
We weren't Brazilians or Catholics, so our parents tried to align the holiday closer to a typical American Christmas Day.  We opened our gifts in the morning, then ate breakfast … but then what?  Everyone had maids so there were no Christmas dinner preparations to busy ourselves with.  Instead, we all wiled away the day at the beach and got home in the late afternoon in time for the skinny turkey to be served.  What I remember most is that anyone who had ever lived in the U.S. fought over the cranberry sauce if we were lucky enough to find a can in the local market.
And then there was New Year's Eve.
Brazil's culture was greatly influenced by its large slave population.  When the slaves were "converted" to Catholicism in the 1700s and 1800s, they simply pleased their masters by giving the names of the Catholic saints to their own African deities, and prayed to both.  Two-for-one.
Over the centuries, the lines between the two religions continued blurred and most New Year's celebrations became a night for honoring Iemanjá.  She is the goddess of the sea to whom the slaves prayed for safe passage as they were tossed by rough seas, body against body, in the holds of ships coming from Africa.
Now, on New Year's Eve on beaches all along the Brazilian coast, large floats of flowers are walked out into the ocean, beyond the waves, as offerings to Iemanjá.  Hundreds of thousands of candles are lit and set in holes carved in the sand to protect their flames from the wind.
And millions of people of all races and social classes head to the beaches to watch the celebrations honoring African deities that are as familiar to them as St. John the Baptist.
So maybe you can understand why I've always found American Christmas and New Year's Eve to be a little bit foreign.
Over the years, wherever I've lived I've "borrowed" other people's celebrations, always feeling like the "odd man out."
It wasn't until a few years ago that I stopped trying to fit in to other people's celebrations.  I found that when I bought into their expectations, I was always disappointed.
One of the beautiful things about getting older is that you can finally decide that it's okay to celebrate as you see fit.  You can pick and choose what brings you joy.  And you can gently say "no" to all the well-intentioned people who are sure you're unhappy if you're not celebrating the way they are.
This year my Christmas was perfect.
I avoided all the situations where family squabbles are hidden under a thin veneer of cheer.  I stayed out of the buying frenzy at overcrowded shopping malls.  I shared special moments with the people I care about the most … both face-to-face and electronically.  A meal snuck here, a drink there.  A few carefully chosen cards and remembrances.
And New Years?
Some years I'm with friends in foreign countries.  Last year I toasted the New Year with my neighbors.  We stood in the middle of our street with a few bottles of champagne, watching the spectacular fireworks set off by the nearby casinos … and then walked safely home.
This year?  Who knows …
All I know is that I'll be celebrating it "my way." 
Let us know in the Comments section below how close your holidays came to being "perfect for you!"
xxxxxxxxxx
Bio: Sharon O'Day fixes financial lives. She is a tell-it-like-it-is money expert with a successful career in global finance, plus an MBA from the Wharton School. Today she specializes in getting entrepreneurial women over 50 back on their game so they can have more money, less stress and more joy. With her "Over Fifty and Financially Free" strategies, they take actions that lead to their ultimate goal: financial peace of mind.