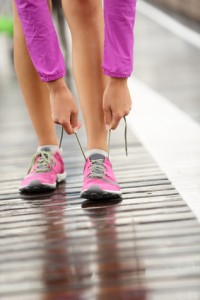 Click below if you'd rather listen than read:
Financial Peace of Mind Forgiving
Reaching financial peace of mind is a marathon, not a 50-yard dash.
In fact, this is one of the few places in life where time actually works to our benefit (something we can't say about a whole lot of things). This is particularly true if we find somewhere to park our money where interest rates are appealing; here the passage of time plays into our plans.
But because of the seriousness of the effort … after all, we're talking about our long-term financial security … once engaged, we tend to put our noses to the grindstone and push, push, push.
Like a recent commercial on television, the answer to almost every question asked when we're in that mode is "no!" No, you can't have those pumps that Oprah wears. No, we can't afford to go to the islands this year. No, we don't have room in our budget to buy the new iPhone that's coming out, even if the one you have is already two versions old.
No, no, no.
Yet, ask any kid how he or she feels about hearing "no" all the time. How long before the kid in you rebels … and does some real financial damage? Now it may not be just a minor setback to your planning; it could be a disaster of untold proportions that will take months or more to recuperate from.
Acting Up
So what are the signs that you're about to act up?
1. Start listening to the expressions you use around anything that requires discipline. ("I'm getting tired of all this. I deserve to be able to do what I want …")

2. Look at how you're reacting to someone else buying or doing something that seems extravagant. ("How come they can do it and I can't? They don't deserve it any more than I do …")

3. See if any of your normal good habits—things you've integrated into your everyday life—are breaking down, even slightly. ("I've done this for so long, so well. Don't I deserve a little break from the routine?")
What do these reactions have in common? They all center on "deserving."
So deserving merits a closer look.
To Understand Deserving
To understand the concept of deserving, let's look at another area entirely: dieting. You know what you are supposed to eat, and you've been good all day. In fact, you've barely been off the list of approved foods all week and the pounds are finally coming off.
Then you go to the supermarket to pick up a few things and you see that the Cheez-Its are on sale, two-for-one. That's a $4.39 saving! Suddenly there are two boxes of White Cheddar and PepperJack Cheez-Its in the shopping cart.
Once home, you figure you'll just have a few handfuls, and hide the second box for another time. How long before both boxes are empty?
And if for you it's not Cheez-Its, it's something else that tempts you when your "deserve" bell is ringing. At that point, anything will be the trigger, or excuse, for falling off the wagon … even something as insignificant as a $4.39 saving!
So now you're stuffed, feeling a little ill from all the flour you don't normally eat. Your body is screaming, your face feels flushed and your stomach's upset. Resentment over feeling deprived has turned into regret.
You realize that you allowed your signals to get crossed. It's not that you "deserved" the Cheez-Its. It's that you were bored with what you had been eating and missed the flavors of forbidden foods.
Besides, what you truly "deserve" is to ultimately reach your desired weight, where you can enjoy your life more fully and healthily.
See how the signals get crossed?
Then, With Money
The "deserving" bell rings for all sorts of things, money included. It can ring if you're saving diligently … or if you're super focused on paying down debt. You'll hear it if you stopped buying yourself pretty things … or cut out social activities completely that took too great a bite out of your budget. In short, you gave up what you considered the good life.
The key is to be aware of how strict you're being with yourself and to be very sensitive to the signs of potential "act ups" that were mentioned above. The answer is to be prepared to give in when the bells start ringing … by making an exception that fills that need for diversity or pleasure or joy.
The sooner you quell that need, the smaller the damage will be.
Remember, for most of us getting to financial peace of mind is a long process. Many of us have years of unfocused money behaviors to make up for.
As for the real "deserving" element, what we do truly deserve is to have financial peace of mind, and the knowledge that we'll be okay financially for the rest of our lives.
Yet, disciplined as we may be, occasionally we'll fall off plan. But nothing's fatal. Just stop as soon as you're aware of what you're doing, repair the damage the best you can without causing any additional feeling of deprivation … forgive yourself! … and put your marathon shoes back on.
You'll be glad you did!
Let us know in the Comments section below what things tend to throw off your best laid plans!
x-x-x-x-x

Bio: Sharon O'Day lost everything at age 53: her home, her business, everything. But how could that be? She's an expert in global finance and marketing with an MBA from the Wharton School. She has worked with governments, corporations, and individuals … yes, she was the secret "weapon," if you will, behind many individuals in high places. Yet she did! Since then, with her finances completely turned around, Sharon has gone on to interview countless women. She's done extensive research to understand how that could have happened, especially with her strong knowledge of numbers and finance.
The surprising answers are shared in her posts, articles and an upcoming book. Today her mission is to show as many women as possible how to become financially free for the long term, through her coaching programs. She has developed a step-by-step plan to get past all the obstacles that keep women broke and scared … and from reaching the financial peace of mind they so deserve … if they're willing to do what it takes!