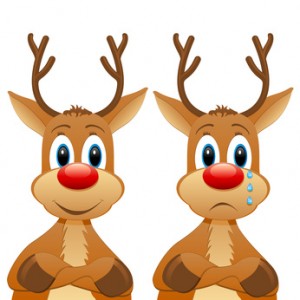 Rather listen than read? Click here:
Holidays So What's YOUR Normal
UPDATE!  As we head into the thick of the 2016 holiday season, I invite you to take an honest look at what this season means to YOU.  Not what you think it SHOULD mean …

The holidays are almost here.  Despite the hubbub and flurry of activity, it can be a time of introspection for some, whether they're in the middle of all the activity or not.
You may have heard that higher levels of depression, anxiety and suicide are somehow linked to the holidays.  The media brings up the "holiday blues" each year.  But they're mistaken.  Experts from the Harvard Medical School find no such link.  In fact, they report research findings from various sources that prove that such statistics actually drop during the winter months.
But that doesn't mean we're not tempted to compare and contrast this season with other ones in the past.  And the comparison may be positive or negative.
If this season compares positively, bravo!  But if it compares negatively, here are just a few of the reasons we hear:
"Times are tough, not quite what they used to be, and gifting will be pretty skimpy this year."
"We'll go through the paces of all the trappings, the extravagant gourmet meals and piles of presents under the tree … while we dread the January credit card statements."
"Christmases weren't so great when we were kids, maybe even a time of tremendous stress, and we'd rather ignore them altogether."
"We've moved and aren't near all the people who made the holidays so special."
"Someone we shared the holidays with is no longer with us" (whether a loved one who's gone or kids who are grown).
"Holidays have just become too commercial and have lost much of their meaning."
And so on.
Regardless what anyone else thinks or says, I believe we owe it to ourselves to find a few quiet moments and get honest.  What are the emotions that the holidays are bringing up?  Whatever they are, instead of stuffing them down and pretending everything's perfect … let them rise and welcome them.
And once you're real clear about what's going on inside you, identify that as YOUR "normal."  Everyone's expectations of the holidays are different.  Everyone's memories are different.  Everyone's everyday reality is different.
How you decide to play out that normal is up to you.  Whether you decide to conform to the wishes of the majority, or buck expectations, or create brand new traditions … whatever you choose to do, there is no right or wrong.
Just be sure to give yourself the gift of honesty and clarity.  However you play it on the outside, make sure to play it with integrity on the inside.  Acknowledge your feelings.  Remember, whatever it is … it's YOUR normal.
Happy holidays!

xxxxxxxxxx

Bio: Sharon O'Day lost everything at age 53: her home, her business, everything. But how could that be? She's an expert in global finance and marketing with an MBA from the Wharton School. She has worked with governments, corporations, and individuals … yes, she was the secret "weapon," if you will, behind many individuals in high places. Yet she did! Since then, with her finances completely turned around, Sharon has gone on to interview countless women. She's done extensive research to understand how that could have happened, especially with her strong knowledge of numbers and finance.
Today her mission is to show as many women as possible how to become financially free for the long term, through her "Over Fifty and Financially Free" coaching programs. She has developed a step-by-step plan to get past all the obstacles that keep women broke and scared … and from reaching the financial  peace of mind they so deserve.