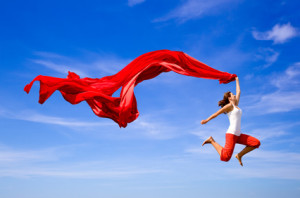 Would you rather listen than read? Click below:
I think I'm frustrating some of my readers.
You know I believe strongly that every woman has to take personal responsibility for her money and for her financial future (whether she's on her own or not).  I write about:
unique, more empowering ways of looking at money;
possible mistaken beliefs brought forward from childhood; and
actions and systems you can use to figure out where you stand financially, where you want to go and how to get there.
I approach the topic of money from many angles, because everyone learns differently.  An approach that resonates with one woman may leave another unmoved.  But eventually something clicks.
In return, I receive emails, IM's, Facebook comments, letters and even flowers.  Each of these carries thanks for helping a woman get out of debt, restructure her expenses, increase her business income, have open money conversations with a partner and so many other achievements.
The thanks warm my heart.  These are women who took a piece of information provided to them, figured out how it applied to their specific situation and then took massive action.  Voila!  A positive outcome.
Occasionally I write about what's going on in the economy and how to protect savings and funds set aside for investment.  Or I write about an issue that a client is facing now that she has her finances under control and is making decisions about the next step.
What Triggers Nasty Notes
Here's what's interesting: among the 1000+ comments I've received on my articles, the rare negative ones have come when I wrote about people's successes.  Some just sounded disappointed; a couple were downright angry.
I've struggled to understand why.  And this morning, I found the explanation in a video sent out by Jeff Walker, founder of that iconic program called Product Launch Formula.
Jeff shared that his strategic coach Dan Sullivan says that one key to happiness is how you measure.  He says we're really good at creating pictures of perfection in our heads, of how things would be if they were perfect.  And if we measure ourselves (or where we are today) against our ideal life, or business or whatever, we're not going to be happy.  There will always be someone doing better.  And as we make progress, our picture of perfection will progress also.
The Real Key to Happiness
The trick is to reframe the issue.  Instead of measuring against our ideal picture of perfection (which will lead to disappointment virtually every time), why not measure against where we came from?  Why not be excited about how much progress we've made, whether it's a lot or even just a little?
So when you read about a new tactic or idea related to money, what if you analyze it to see where (and even if) it fits into your personal journey to financial security and peace of mind.  If it doesn't apply because you're not there yet, let it go or bookmark it for later.
Instead of getting frustrated because you're not there yet, look at how much better you are today than you were last month or last year.  Look at what you have improved and make that a reason to celebrate.
In short, apply Sullivan's key to happiness:  set yourself up for happiness, not for failure.
(Thanks for the great explanation, Jeff!)
Let us know in the Comments section below how much further ahead you are today compared to this time last year.  And if you're not, I have one question:  Do you have a clear plan?
xxxxxxx
Bio: Sharon O'Day fixes financial lives. She is a tell-it-like-it-is money expert with a successful career in global finance, plus an MBA from the Wharton School. Today she specializes in getting entrepreneurial women over 50 back on their game so they can have more money, less stress and more joy. With her "Over Fifty and Financially Free" strategies, they take actions that lead to their ultimate goal: financial peace of mind.