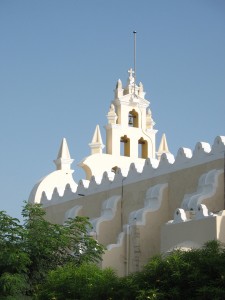 We hear all the time about how we need to declutter.  And how we'll have space for new things in our lives only when the old things have been moved out.
Well, I finally found an exception!
This week I was in Merida (map), in the Yucatán Peninsula (map) of Mexico.  The city was built by the Spaniards starting in 1542, on top of the existing Mayan capital.  In fact, they tore down five Mayan pyramids to use the carved stone to build their own buildings and churches.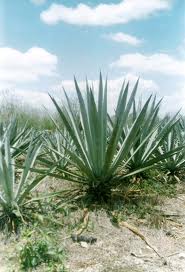 Merida's heyday came with the "henequen" business.  Henequen is a hemp-like fiber that comes from an agave cactus that grows in the Yucatán countryside.  It was used to make rope before natural fibers were replaced by synthetics.  Thus Merida became the rope capital of the world and attracted all sorts of European investment in the late 1800s.   Ships sailed regularly to Europe with henequen, and back with antiques and finery.  By 1900, Merida was said to house more millionaires than any other city in the world.
Because there was lots of money flowing in, there are beautiful buildings all over town, some with European architecture and others Mexican colonial.  Today, some are in ruins but are being renovated, many by non-Mexicans (click here to see a renovation).  And the Mexican government has realized that Merida can be a perfect place for foreigners to retire if they can keep it safe, offer lots of free cultural activities and keep costs low.  So far, so good.
The city is flat, spread out on a grid of numbered streets, and almost a million-people strong.  Lots of history, all very accessible.  A true "walking" city.  And, honestly, a place I love.
I lived in the Yucatán in the 1970s, when Cancun was being built on the other side of the peninsula from Merida.  Merida was the "big city" we drove five hours to reach when we needed something for our restaurant on our "rustic" side of the peninsula.
Today it's one of the places I escape to when I need to relax and regroup.  And that's what I did last Sunday: escape.
When I travel, I do what I call "souvenir eating":  I have favorite foods in each country and for a few days I forget all about calories.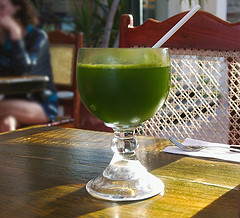 Monday started with a smoothie made of nutritious "chaya" leaves and oranges, bought at a little juice place in one of the markets.  We joined friends for lunch, and all had "frijol con puerco," a bowl of black bean soup to which you add whatever ingredients you choose from a separate plate.  Finely chopped red onions, radishes, Habanero chiles and cilantro; sliced lemon, cooked rice and big chunks of cooked pork.  [If you're interested in the cuisine of the Yucatán, click here.]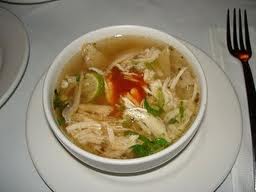 We walked for miles and miles on Monday, so after that heavy lunch we decided to take a siesta.  Dinner was light, just a bowl of "sopa de lima," a chicken-based lime soup that's my bar-none favorite Yucatán food.  We had it at one of the little stands at Santiago Park, sitting with the locals enjoying the cool evening.  Then off to bed.
At 4:10 a.m., I sat bolt upright in bed in the hotel room and thought I was going to die.
Montezuma's Revenge!
Have you ever been sick away from home?  It's awful.  And knowing your whole vacation could be ruined by an illness makes it even worse.  I, who never gets sick abroad and who eats absolutely everything … how embarrassing!  I was sick from something I ate!
In a panic, I rummaged through my travel kit to see what I could find.  It's one bag I never empty out, but just keep adding my latest perfume or pill or shampoo before throwing the bag into my suitcase.  On a recent trip, I thought it was getting heavy and made a mental note to clean it out someday.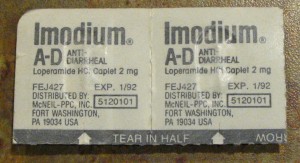 I remembered having seen some Imodium® at one time, but was sure I had thrown it out ages ago because it had been there seemingly forever.  But, no!  I found four old caplets in tamper-resistant packaging.  Then I looked at the expiration date.
January 1992.
At that point, anything's better than nothing.  So I took one and tried to get back to sleep.  An hour later, I took another.  (After all, the stuff's twenty years old … )  As I dozed off, I figured out that I had bought it to go on a trip to the Galapagos in 1990.  I guess that means I don't get sick often.  And, imagine, that has to be the world's best-traveled Imodium®: it's been in my luggage for that entire time!
When my Blackberry alarm woke me up at 8:00 a.m., I got out of bed and took stock of how I felt.  Pretty good.  I looked a little rough around the edges, but got showered and dressed, went down for breakfast and took off on another marathon day.
I was fine!  And for the rest of my stay, I ate and played as hard as ever in my favorite playground.  (To find out why I feel that way, click on that link for a great video … and look especially at the faces.)
So here's the moral of my little travel adventure:  there are indeed times when clutter is good.
When people pressure you to declutter, do so thoughtfully.  If you're a traveler, don't remove anything from your travel kit without replacing it first; you surely put it in there originally for a real good reason.  And if anyone ever tries to clean out your travel kit for you, tell them to keep their hands off it!  There's gold in there.