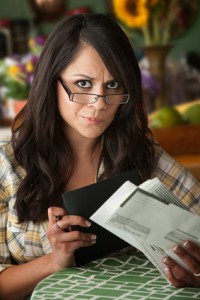 You're bright and capable.  Over the course of your marriage, you've let your husband handle all the finances.  Now, as the marriage unravels, you realize you're back at Square One in terms of personal financial power.
My friend Susanne Scaldino sent me the link to a brilliant article, written by author and journalist Eilene Zimmerman and published yesterday in www.Salon.com.
It reflects everything I've been hearing from women on money disempowerment … but Eilene fights her way back to recapture her financial power.  It's such a great lesson, I simply had to share it with you …
It's entitled:
I'm a business writer and a feminist. But when it comes to my own money, I made a big mistake
BY EILENE ZIMMERMAN
Published in www.Salon.com
Wednesday, Mar 9, 2011 22:30 ET
*****
As much as I'd love to reproduce it for you here, and even went back and forth by email with Eilene, when I read the footer on the Salon website I realized I don't have that right.
So the best I can do is send you there with as much enthusiasm as I can muster.
Go on, now.  Go read it!  Click on the article title above, or here, then come back to this page to comment on what impact it had on you …