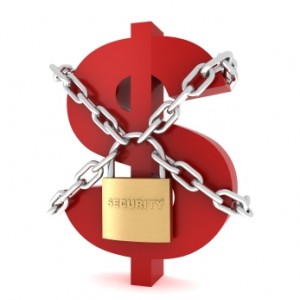 Click to hear the audio (under 8 minutes):
Holiday shopping!  Black Friday alerts are popping up all over my email these days, a sure sign that the peak holiday shopping season can't be far away.
Excitement's up, precaution's down.  And, like all the scumbags that appear right after a major hurricane to take advantage of people who have their guard down, the scammers and pickpockets are going into hyper drive.
As someone who hopes you think twice (or three or four times) before spending senselessly on gifts … because I'm concerned about your long-term financial well-being … I know when I'm licked.  So if I can't save you from yourself, I may as well at least try to save you getting taken by outsiders.
According to the security company Symantec/Norton, $114 billion were lost last year through global cyber crime, or deceptive online practices.  Lost time related to that accounted for $274 billion more.  Together, that's more than the value of the global black market in marijuana, cocaine and heroin combined!
More than two thirds of online adults have been a victim of cyber crime in their lifetime. Fourteen adults become a victim of cyber crime every second, resulting in more than one million cyber crime victims every day.  Now 10 percent of adults online have experienced cyber crime on their mobile phone as well.  And those numbers are growing.
But you already know about all the online protections you should take:
1.    If you go to a URL from another website or email, double check the URL to be sure you haven't been redirected somewhere else.
2.    Before putting your payment information into a site, be sure the URL starts with "https" instead of "http."  And look for the little closed padlock icon in your browser window.  At least you'll be on a secure website.
3.    Use credit cards instead of debit cards, because you have more recourse if you do land in a scammer's grasp.  And Paypal is even better since the seller never sees your credit card information.
4.    On big-ticket items, you might be asked security questions.  These authentication questions are for your own protection … as long as you're talking to a real retailer.
5.    The 3- or 4-digit security number on your card plays the same role.  Only you (and someone who has stolen your card!) would have it as it's physically on your card.  If the card has been stolen, hopefully the merchant will ask for your billing address zip code, which a thief would not know.
And when you go fight the crowds, which some of you will, here are a few well-known tips about "What's In YOUR Wallet":
1.    Only take cards you know you're going to need.  If you still have a boatload of them, leave most of them at home so it's less devastating if a pickpocket decides to relieve you of that fat wallet in your back pocket or purse.
2.    If you carry checks, be sure they don't have your Social Security Number on them.  And having your address and phone number at work printed on checks is a lot smarter than those at home.
3.    Instead of signing the back of your credit cards, write "Photo ID Required" in the signature space.
4.    Before you venture out to malls and big box stores, spread every card on a copier and copy both sides of every license, credit card, etc.  That goes for your Social Security card too.  And leave the copies at home, safely filed where only you know where they are.  What you can take with you, but shouldn't leave in your wallet or purse, is a listing of stolen-card alert numbers at:
   Visa (1-800-847-2911)
   Mastercard (1-800-627-8372)
   Discover (1-800-347-2683)
   Equifax (1-800-525-6285)
   Experian/TRW (1-888-397-3742)
   TransUnion (1-800-680-7289)
   Social Security fraud line (1-800-269-0271)
There, I made it easier.  Print this page and cut out the numbers.  And remember to call all of the ones that apply immediately after a loss.
5.    If something awful does happen, be sure to file a police report in the jurisdiction where it happened, not once you get back home.  It's no guarantee that they'll ever find the criminals, but at least you can prove to card issuers that you did your due diligence.  And once home, notify your card issuers in writing as well, immediately.
This is all information that circulates pretty freely, so I'm just serving as your reminder service.  But I'd like to share the extra steps I take because I take my money, as well as my personal identity, super seriously.
1.    If I'm searching for a certain product online and Google it, I don't follow a link haphazardly because it's too easy for shadow sites to be created around popular products.  The goal of such sites is to obtain my personal information directly or by putting malware on my computer.  Instead, I find out where the product is being sold and I type in the online or offline retailer's URL directly.
2.    I bought an RFID wallet online from TamperSeal that fits my passport and the few credit cards I carry.  (No, I have no affiliation; I just love the product and their service.) Thanks to a thin metal mesh inside the leather, the RFID chip on those documents can't be read, so my personal information can't be harvested by anyone who's sneaky enough to buy an RFID chip reader.  Card issuers claim there is no danger, but I'd rather be safe than sorry.
3.    I pay for one of those identify-theft protection services.  I saw the level of protection it provided when I tried to buy my first big-ticket item after activating it, and I consider the service one more welcome layer of protection.
4.    Even if we buy everything on credit cards, and not on the less-protected debit cards, eventually we need to make a payment out of a bank account, even if it's just for the credit card balance.  And then there are all those online payments we make:  phone, lights, cable, internet, etc.  I have only one bank account that has online access to it, and I monitor the activity on that account by looking at it online every day.  That's partly for safety, and partly because of the connectedness it gives me to my money.  My money remains "physical" in my brain, and not invisible "funds" that move about at the click of a mouse.
5.    Lastly, to be sure I limit my exposure in that account, I move money into it periodically.  But to sleep really well at night, I don't transfer money in from another account.  I physically go to the other bank, take out the cash I've budgeted and drive it to deposit in the bank with the online account.  Call me crazy.  Call me paranoid.  I call it "safe."
As Sergeant Phil Esterhaus used to say at the end of roll call on Hill Street Blues, "Let's be careful out there."
And let us know in the comment section below if you have any other suggestions you'd like to share.
xxxxxxxxxx
SHARE THIS ARTICLE WITH YOUR TRIBE! 
AND include the following citation at the end of the article!
About the Author: Sharon O'Day is a tell-it-like-it-is money expert with a successful career in global finance and marketing, plus an MBA from the Wharton School. Today she specializes in getting entrepreneurial women over 50 back on their game so they can be financially free.  With the "Over Fifty and Financially Free" strategic plan, they take actions that bring them more money and less stress … which means happier, fuller lives.  More About Sharon
xxxxxxxxxx
Bio:Sharon O'Day lost everything at age 53: her home, her business, everything. But how could that be? She's an expert in global finance and marketing with an MBA from the Wharton School. She has worked with governments, corporations, and individuals … yes, she was the secret "weapon," if you will, behind many individuals in high places. But yet she did! Since then, Sharon has interviewed countless women and done extensive research to understand how that could have happened, especially with her strong knowledge of numbers and finance.
The surprising answers will be shared in her upcoming book "Money After Menopause." Today her mission is to show as many women as possible how to become financially free for the long term, through her "Over Fifty and Financially Free" coaching programs. She has developed a step-by-step plan to get past all the obstacles that keep women broke and scared … and from reaching the financial peace of mind they so deserve.